Product information
Category: PES Membrane Cartridge Filter
Product series: PSguard
Product URL: ....
PSguard® Pariticle Reduction Filter Cartridge
The PSguard® filter cartridge is an absolute rated, pleated polyethersulfone (PES) membrane filter designed to provide greater bacteria and removes particles at high flow rates and extremely low pressure drops. It offers the greatest assurance of filtration performance stability and service life for controlling contaminants in demanding environments. PSguard® Filter media is created by a patented process that produces an outstanding polyethersulfone membrane that is inherently hydrophilic. PSguard® membranes are highly durable.
PSguard® Efficiency
PSguard® filter cartridges combine a high dirt holding capacity, protective abilities and extremely high flow rates, These cartridges are easy to clean for an efficient regeneration if necessary.
PSguard® User Manual
PSguard® filter cartridges user manual is available at www.vanguard.com.bd/ecodocs for your ready download. This eco approach from our side as a contribution to reserve the environment.
Features and Benefits
High quality asymmetric PES membrane and PP components
Absolute ratings of 0.2 µm and 0.45 µm.
Contains no binders or adhesives materials.
Biologically inert and non-toxic.
Extremely high flow rates at low pressure drops.
Hydrophilic membrane.
Integrity testable in water.
High thermal and hydrolytic stability.
Resistant to oxidizing agents.
High protein transmission.
During manufacture 100% integrity tested.
Meets FDA requirements for food contact use, passes USP Class VI Plastics biological reactive test.
Typical Application
PSguard® Polyethersulfone filter cartridges may be used as either prefilter or final filters. PSguard® filters are most appropriate for use when high efficiency filtration and economy are crucial.
Common industries that use PSguard® filters include:
Serum and blood-based products
Tissue culture media
Microbiological growth media
Ophthalmics
Oral or topical medication
Diagnostics
Protein solution
Antibiotics
Vaccine preparation
Bacterial Retention
ASTM F838-05 Challenge: 0.2 µm, 0.45 µm >107 cfu/cm2 Brevundimonas diminuta and meet the FDA definition of a sterilizing grade filter.
Materials of Construction
Filter Media: Polyethersulfone (PES) Upstream Support: Polypropylene Downstream Support: Polypropylene Core/Outer Guard: Polypropylene End Cap: Polypropylene Sealing Method: Thermal Bonding O-ring/Gasket Seal: Silicone PSguard® filters are manufactured in conformance to cGMP. All materials of construction listed above are FDA approved for food contact use per 21 CFR 177. PSguard® filters meet the requirements as specified in the current USP Class VI plastics, cytotoxicity and pyrogenicity tests. No binders, adhesives or surfactants are used in its construction. The filters comply with European Commission Directive 2002/72/EC and subsequent amendments up to 2008/39/EC and Commission Regulation (EU) No 10/2011.
Filtration Ratings
Pore Sizes:0.2 and 0.45 µm
Cartridge Dimensions
Diameter: 2.75" (7cm)
Lengths: 10", 20", 30", 40" (25cm, 50cm, 75cm, 100cm)
Maximum Operating Temperature And Pressure
Δp 80 psi @ 32 °F to 100 °F (Δp 5,5 bar @ 0 °C to 38 °C)
Δp 60 psi @ 150 °F (Δp 4,1 bar @ 66 °C)
Δp 30 psi @ 180 °F (Δp 2,1 bar @ 82 °C)
Sterilization
Steam-in-place (SIP):
Saturated steam @ 121-125 °C, 30-60 minutes.
[15 psi (1 bar) to 30 psi (2 bar), 30-60 minutes]

Autoclave: 121-135 °C, 30-60 minutes.

PSguard® cartridges are capable of repeated sterilization cycles. For applications requiring autoclave/SIP, a stainless steel reinforcement ring must be ordered. See "Reinforcement Ring Option" within "Ordering Information".
Ordering Information
please check into the catalogue.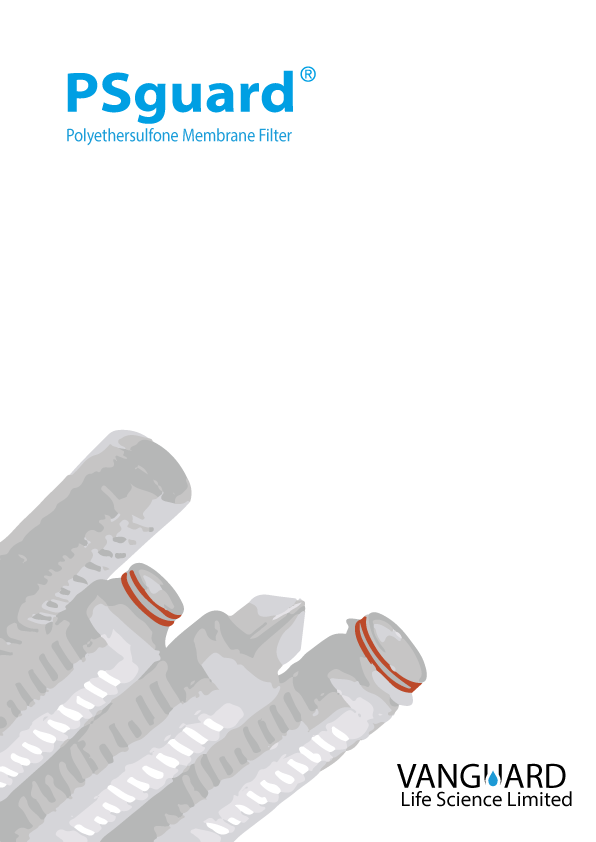 PSguard® Membrane SEM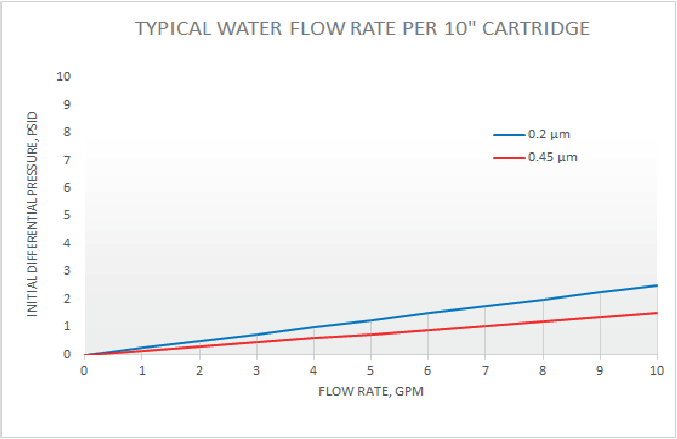 PSguard® flow rate in water